A single solution for all the airline's needs


The Metro of I.F.S. in the new livery

EURECA!!!

As a part of its "Global Image Coordination" service G& G Aviation has realized the study of the new company image of the International Flying Services of Bergamo which has been renamed, from January 1998, EuReCa- European Regional Carrier.
IFS, in fact, due to the beginning of the scheduled passengers have recognized the need to place itself on the market with a denomination and an image that is of more immediate impact on the customers and more oriented to the new type of offered service.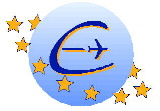 The new name, conceived by G& G, intends to underline the satisfaction of the customer for having finally "found" an operator that connects cities that were lacking direct services and it evokes at the same time the new regional attitude of the company within Europe. The logo uses an alternation of capitals and lower case letters to underline the syllables of European Regional Carrier while a graphic artifice allows the reading at first sight of the Greek word with the "K." The mark, based on the initial "E", characterized also from the airplane with his trail, is surrounded by stars that strengthen the idea of Europe.

Home - Who/Where we are - News - For sale
The Management - Aircraft - Logistic support - Training - Insurance - Consulting - Represented companies